Thursday, March 23rd, 2017
Compass Chambers Aberdeen Conference 2017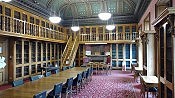 Compass Chambers is delighted to invite you to attend our Annual Aberdeen Conference.
The Conference will take place on Thursday 23rd March 2017 at The Society of Advocates in Aberdeen, from 1pm until 5pm. Under the Law Society of Scotland's Guidelines, delegates may claim 3 hours of CPD time. The conference is FREE to attend however Compass Chambers are asking delegate for a minimum donation of £10 each to our nominated charity for 2017, The British Red Cross Syria Crisis Appeal. Donations can be paid on the day or by visiting our Virgin Money Giving Page.
The programme provides a comprehensive review of the latest procedural and policy developments in Compass Chambers' core areas of Reparation, Regulatory Crime and Professional Negligence. The Aberdeen Conference aims to provide delegates with up-to-date information regarding the important issues concerning these core areas along with the opportunity to discuss some of the most significant and current developments. Members of Compass Chambers who specialise in these areas will lead the presentations.
The Programme will commence at 1:00pm with registration and run through until 5:00pm. A drinks reception will follow to which all conference attendees are invited.
Programme
13:00 Registration and light lunch
13:30 Welcome - Steve Love QC
13:45 Regulatory Update – Steve Love QC
14:30 Medical / Professional Negligence – Kay Springham QC
15:15 Coffee Break
15:30 "Master or servant – who is responsible for the irresponsible April Fooler? A vicarious liability update" – Steve Laing
16:15 PI Update / ASPIC – Robin Cleland
16:55 Conclusions and Close – Steve Love QC
17:00 Drinks Reception and Canapes
Book now to avoid disappointment! For further information or to book your place, please email lesley.hogg@compasschambers.com or call 0131 260 5661.