Friday, October 21st, 2022
Top Rankings for Compass in Chambers UK Bar Guide 2023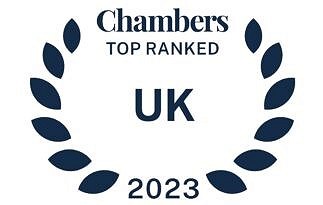 Compass Chambers is delighted to have been recognised as a leading set by Chambers UK in the latest edition of the directory which was published yesterday. Compass has received 47 individual rankings in 6 practice area categories. Compass is also ranked Band 1 as a set in 4 categories – Personal Injury, Clinical Negligence, Health & Safety and Product Liability.
In Personal Injury, Compass has 23 members ranked and is the only set in Scotland to be recognised as Band 1. The directory reports that Compass is "the leading personal injury stable in Scotland." It goes on to say it "houses a strong bench of senior and junior advocates who are regularly instructed to act on behalf of both pursuers and defenders in high-value catastrophic injury, industrial disease and fatal accident claims." Robert Milligan KC is ranked as a Star Individual in this area.
In Clinical Negligence, Compass has 10 members ranked and is ranked Band 1 as a set. The directory says Compass is "a leading stable in the Scottish medical negligence market, and houses expertise spanning a wide range of disputes." The directory reports "they have a strong group of KCs and juniors who have expertise in the area of clinical negligence."
In Health & Safety, all 6 of the Advocates ranked by Chambers UK in Scotland come from Compass and the stable is again ranked Band 1 as a set. The directory says "the stable is regularly instructed in the most high-profile health and safety cases in the market" and is home to "a strong bench of advocates who are highly regarded for their expert handling of complex health and safety cases arising across the engineering, oil and gas, rail and construction sectors, among others." All of the Advocates listed are ranked Band 1, with Peter Gray KC and Murdo Macleod KC highlighted as Star Individuals in this area.
In Product Liability, Compass has 6 members ranked, the most of any Scottish Stable, and is ranked Band 1 as a set in this area. The directory says Compass has "a strong bench of advocates and impressive expertise in complex product liability disputes". Compass members "have considerable experience of acting on behalf of both pursuers and defender manufacturers in claims involving medical devices". The directory states that instructing agents "describe them as the 'big hitters' on the pursuer's side."
Individual Compass members received rankings for Media Law and Professional Discipline too.
There is also praise for the Clerking team with the directory saying "The clerks provide a wonderful service." "Practice manager Gavin Herd is outstanding. He is supported by a responsive and helpful team." "The clerks at Compass are all excellent – quick to respond, helpful and pleasant to deal with."
A full list of the Compass rankings can be found here.