Wednesday, October 4th, 2023
Top Ranking for Compass Chambers in Legal 500 UK 2024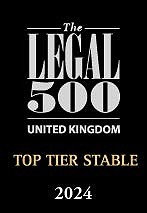 Compass Chambers and our members have once again received top rankings from the Legal 500 in the 2024 edition of the directory which has just been published.
Compass has received 23 individual rankings across 3 practice areas. Compass is also recognised as a top tier stable in the categories of Personal Injury & Medical Negligence and Crime & Regulatory.
In Personal Injury and Medical Negligence, Compass has 17 members ranked and the directory says that Compass "offers the cream of the Scottish personal injury Bar"
In Crime and Regulatory, 4 of the 5 members who are ranked in Scotland come from Compass Chambers. The directory says that Compass is "the leading regulatory stable in Scotland" and is "a centre for excellence in regulatory crime". It also reports "Compass Chambers is the go-to stable in Scotland for health and safety work."
We also have 3 members ranked in the Administrative and Public Law category.
There is also praise for the Clerking team with the directory reporting "Gavin Herd and Lesley Hogg are both knowledgeable and helpful. A pleasure to deal with." It also states, "Gavin Herd and his team are efficient, flexible and approachable."

A full list of the rankings for the Scottish Bar can be found here.