Thursday, September 29th, 2022
Top Ranking for Compass Chambers in Legal 500 UK 2023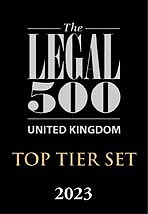 Compass Chambers and our members have once again received top rankings from the Legal 500 in the latest edition of the directory which has just been published. Compass has received 19 individual rankings across 3 practice areas. The strongest rankings are in our Core areas, under the categories Personal Injury and Medical Negligence and Crime and Regulatory.
In Personal Injury and Medical Negligence, Compass has 15 members ranked and the directory says that Compass is "a fantastic stable with an exceptional breadth and depth of experienced counsel in clinical negligence and PI work" and also says that "The advocates are the cream of the Scottish personal injury Bar".
In Crime and Regulatory, 3 of the 4 members who are ranked in Scotland come from Compass Chambers. The directory says that Compass is "the go-to stable for regulatory crime and health and safety matters". It goes on to say that "Compass Chambers is the principal stable for private and regulatory crime in Scotland" and the team are "Very friendly and reliable".
We also have one member ranked in the Administrative and Public Law category. A full list of the rankings for the Scottish Bar can be found here.