Wednesday, September 25th, 2019
Top Ranking for Compass Chambers in Legal 500 UK 2020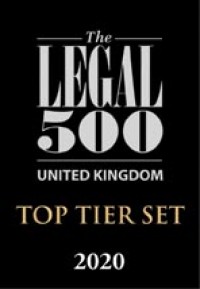 Compass Chambers and our members have once again received top rankings from the Legal 500 in the latest edition of the directory which was published today. Compass has received 27 individual rankings across 5 practice areas. The strongest rankings are in our Core areas in the categories of "Personal Injury and Clinical Negligence" and "Health & Safety and Regulatory".
In Personal Injury and Clinical Negligence, Compass has 13 members ranked and the directory says that Compass is "one of the leading sets in personal injury and medical negligence" and it "provides high quality counsel suitable for cases at any level".
In Health & Safety and Regulatory, all 8 members who are ranked in Scotland come from Compass Chambers. The directory says that Compass "remain the 'go-to stable for the defence in regulatory crime cases', with 'a strong line up of junior and senior counsel'." It also says that Compass is "the market-leading stable for regulatory and financial crime work"
Members are also ranked in the categories of Crime, Commercial and Planning, Environmental and Licensing.
There is praise for the clerking team with the directory stating The clerks know their counsel, their availability and their strengths', making practice manager Gavin Herd 'everything a counsel's clerk should be', and deputy clerk Lesley Hogg is 'always pleasant do deal with, efficient and happy to help'.