Tuesday, October 30th, 2018
Rankings Success for Compass in new Legal 500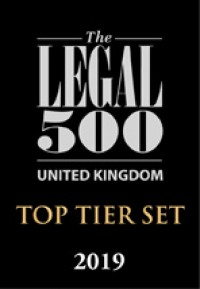 The latest edition of the Legal 500 has been published and Compass are delighted to have received 34 rankings over 6 practice areas.
There has been a particularly strong showing in our core areas. 19 Compass members have been ranked in the category of Personal Injury and Medical Negligence (more than any other stable at the Scottish Bar), with the directory describing Compass as 'the best stable for personal injury in Scotland' and saying Compass has a 'good strength in depth of personal injury specialists'.
In the category of Health & Safety and Regulatory, 8 Compass members (out of a total of 10 from the Scottish Bar) have been ranked with Legal 500 stating Compass Chambers is 'Scotland's leading regulatory stable'.
There is also praise for the clerking team with the directory saying the 'brilliant' practice manager Gavin Herd leads a team of 'knowledgeable and helpful clerks who instructing agents trust and respect'.
Legal 500 goes on to say that 'you can be confident that when you instruct counsel from this stable your client's case is in safe hands'.
Compass Practice Manager Gavin Herd said "We are very pleased with the rankings Compass members have received in the new Legal 500 directory with 3 more rankings than in 2017. The number of rankings received in our core areas of practice shows the market recognises our strength and depth in these areas."