Thursday, April 30th, 2020
Peter Gray QC to cycle 200 Miles in 24 hours for charity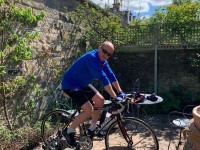 On Saturday 2nd May, Peter Gray QC will be attempting to cycle 200 miles in less than 24 hours in an outdoors static cyclathon in his garden to raise funds for the National Bereavement Partnership COVID-19 Hub Response Appeal.
The charity exists to provide information, advice and support to those affected by the crisis. Its aim is to alleviate the mental impact and distress caused directly or indirectly by the disease. A team of volunteers with the appropriate qualifications and skill sets, are available to listen to those in need, support callers in dealing with their bereavement or offer guidance in dealing with issues caused by the COVID-19 pandemic.
Is the solo cyclathon going to be a challenge? Peter said "Well, I am 60, I have never cycled more than half a dozen times a year in the last 40, there has been virtually no training and the weather is not looking great; 200 miles in under 24 hours seems rather daunting at this precise moment!!"
If you would like to make a donation, it can be done through Peter's Just Giving page here.