Wednesday, September 8th, 2021
Graeme Middleton, David McNaughtan and Catherine Smith Appointed as Queen's Counsel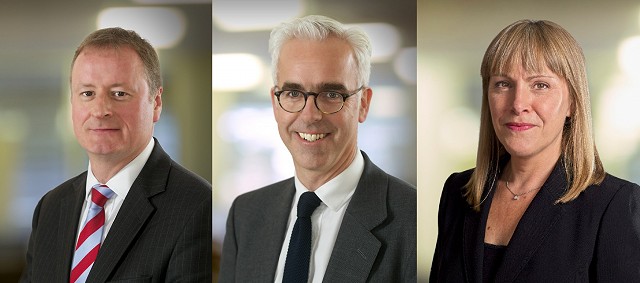 We are delighted to announce the appointment of new silks Graeme Middleton, David McNaughtan and Catherine Smith.
Graeme, David and Catherine were among 12 new Queen's Counsel appointed by Her Majesty the Queen on the recommendation of First Minister Nicola Sturgeon, having been nominated by the Rt Hon Lord Carloway, the Lord Justice General. The rank of Queen's Counsel is generally reserved for those who have distinguished themselves in practice in the Supreme Courts. Advocates and solicitors with rights of audience in the Supreme Courts are eligible to apply to the Lord Justice General, Lord Carloway. Before making nominations to the First Minister, the Lord Justice General consults other judges, the Lord Advocate, the Dean of the Faculty of Advocates and the President of the Law Society of Scotland.
Graeme has a busy general reparation practice, acting for Pursuers and Defenders alike - especially in a broad range of industrial and road accident, disease and workplace stress claims.. Graeme's principal fields of practice have historically included Personal Injury, Professional and Clinical Negligence and Insurance Litigation and he has a growing practice in marine/fishing boat accidents and consumer protection. He is Junior Counsel for the Pursuers in the first ever set of Group Proceedings in Scotland, concerning vehicle nitrogen oxide emissions. A copy of his profile can be seen here.
David specialises in reparation cases in both the Court of Session and Sheriff Courts. In his personal injury practice, he deals with cases involving all aspects of personal injury law, including employers' liability, occupiers' liability, road traffic accidents, industrial disease, and product liability. In the professional negligence field, David is instructed regularly in clinical negligence cases including high value birth trauma and spinal cord damages. He has also acted in solicitors' negligence claims. David was recently appointed as Crown Counsel. A copy of his profile can be seen here.
Catherine's principal areas of work are reparation and public law. She specialises in personal injury, clinical negligence and judicial review cases. Catherine has a busy practice in reparation work, acting for pursuers and defenders. She also acts in product liability cases; and has prior experience of criminal trials and appeals.Catherine also undertakes a wide variety of advisory work for organisations including the Scottish Legal Complaints Commission; MDDUS (Medical and Dental Defence Union Scotland); Criminal Injuries Compensation Authority; the Ministry of Defence and the Equality and Human Rights Commission. A copy of her profile can be seen here.
Compass Practice Manager Gavin Herd said "We are absolutely delighted that Graeme, David and Catherine have taken silk. All three appointments are richly deserved and they significantly bolster the options we can offer at Senior level. We wish them all the best in their future careers as Senior Counsel."