Monday, June 6th, 2016
Glasgow Conference Raises over £1,200 for Child Brain Injury Trust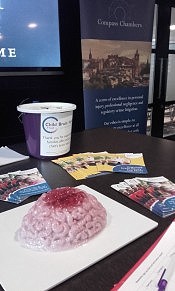 Compass Chambers annual Glasgow Conference took place on Friday 27th May at 200 SVS and we were delighted to welcome over 100 delegates to the event. Those attending enjoyed talks from Compass members Peter Gray QC, Steve Laing, Ian Mackay QC, Jillian Martin-Brown and Steve Love, but also got to learn about childhood acquired brain injury from Claire Murray of the Child Brain Injury Trust. Claire brought along a jelly brain to assist which was very popular and the subject of much discussion!
The Conference was free to attend, but Compass had asked for delegates to make a donation to the Child Brain Injury Trust which is our nominated charity for 2016. Over £1,200 has been raised from the donations which is a fantastic total. On behalf of Compass and the Child Brain Injury Trust we would like to express our sincere thanks to everyone who attended and made a donation.
If you would like to contact Claire Murray, she can be reached via clairemurray@cbituk.org or on 0131 475 2598.