Tuesday, November 22nd, 2022
Claire Madison Mitchell KC Awarded Honorary Doctor of Law Degree from the University of Dundee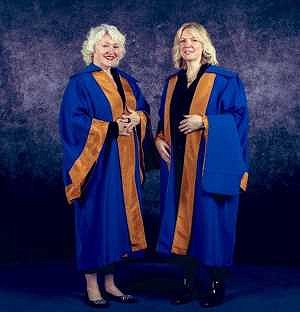 Compass Chambers are delighted to announce that Claire Madison Mitchell KC has been recognised with an honorary degree from the University of Dundee for her work on the Witches of Scotland Campaign.
Claire has campaigned alongside Zoe Venditozzi since launching the campaign on International Women's Day in 2020. Both Claire and Ms Venditozzi have been awarded honorary Doctor of Laws degrees in recognition of their achievements.
The campaign launched with three aims: to obtain a pardon for those convicted as witches under the Witchcraft Act 1563, to obtain an apology for all those accused and to obtain a national memorial to remember those killed as witches.
The Witchcraft Act 1563 resulted in approximately just shy of 4,000 people being accused as witches. As with elsewhere in Europe, the vast majority of those accused, some 85 per cent were women.
Confession to allegations of witchcraft were routinely obtained by torture, both physical and mental. The stripping and pricking of women was common, as was sleep deprivation. The torture forced false confessions which were used as the basis for conviction.
Of the 4,000, academics estimate that approximately 2,500 were executed. The method of execution was by way of strangulation and then burning at the stake. Scotland killed five times as many people as witches than elsewhere in Europe.
The Witches of Scotland campaign has achieved its first aim, as First Minister Nicola Sturgeon issued a Scottish government apology for the wrongdoings of the past, and a member's bill has been introduced at the Scottish Parliament seeking a full pardon.
Professor Iain Gillespie, Principal and Vice-Chancellor of the University of Dundee, said: "Claire and Zoe have led a campaign which has resonated around the world and which has already resulted in an apology from the First Minister for the wrongs of a dark period in Scotland's past."